Welcome to the website of No Mercy®
No Mercy Supply is especially for people who want to grow their own crops hobby-wise in the most organic way possible Our complete product line is dedicated to this way of cultivation.
Growing in a biological way results in a much better and fuller flavor of your crop.
Our slogan "Back to mother nature" says it all.
If you have questions about our products, we are of course happy to assist you.
With best regards,
No Mercy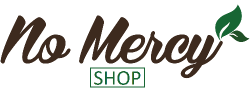 Click on the banner to visit our online shop